Winners Announcement: NEW GIVEAWAY - ENJOY 2.2M FREE FUT COINS
2022-03-04 07:25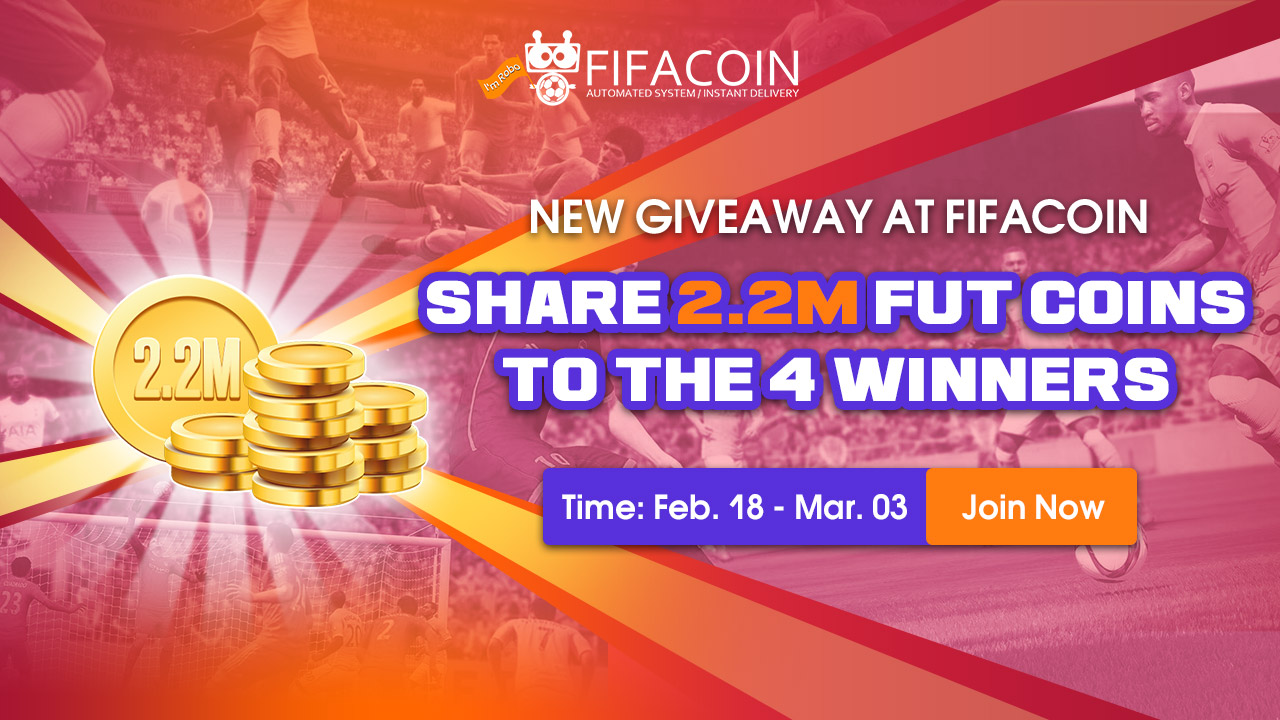 The New Giveaway has been finished, FIFACOIN prepared 2.2M FUT coins for 4 winners. Thanks for your participation! Now, check the result of the quizzes!
Q1, In the following players, which player is the highest rating in Future Stars?
A: Florian Wirtz (92) (67.5% Choose)
Trincão (87)
Florian Wirtz (92)
Emile Smith Rowe (91)
Maxence Caqueret (87)
Q2, In the following players, whose rating is correct in TOTW 22?
A: Ramy Bensebaini (82) (70.5% Choose)
Marco Reus 87 - (86)
Aleksandar Mitrović 88 - (86)
Ramy Bensebaini 82 - (82)
Kévin Gameiro 83 - (81)
The winners have been randomly chosen by the third party Gleam. The higher the participation, the greater the chance of being selected! Check the prizes as follow now,
600K FUT Coins X 2 (49$)
500K FUT Coins X 2 (41$)

Congratulations! Please contact our 24/7 LIVE CHAT for customer service to claim corresponding prizes within one month! The step of using the voucher,
"FUT 22 Coins" - "Choose Corresponding Coins" - "BUY NOW" - "Voucher" - "Submit" - "CHECK OUT".
Follow FIFACOIN, get a surprise in your life!



FuriousRZ: Really good customer service and the best fifa coin website ever really recommend it.

The customer has bought:

FC 24 Coins

2023/09/

23




Miksa: 10/10 customer service, would recommend FIFACOIN to everyone!

The customer has bought:

FC 24 Coins

202

3

/09/

23




GTV: They have very fast service, very safe, and very cheap! It's the best site for buying FC 24 coins safely. I will use that to increase my team.

The customer has bought:

FC 24 Coins

202

3

/09/

23




Newton: Very fast completion and easy to order! Prices are cheaper compared to other websites and lots of discounts are available to make it even cheaper.

The customer has bought:

FC 24 Coins

202

3

/

09/23




Mihai: I sold coins on this site and everything went well before. So I took more time to buy new coins this time and the staff always responded so fast.

The customer has bought:

FC 24 Coins

202

3

/09/

24




Boolean: Got my FC 24 coins in the first time! The only thing I say is it that takes 10 minutes to get them, really fast!

The customer has bought:

FC 24 Coins

202

3

/09/

24




Shaun: Really good customer service and they are very understanding of whatever your situation is, highly recommended!

The customer has bought:

FC 24 Coins

202

3

/09/

24




Shaun: Fast, safe, and just very good, so I will probably buy again sometime.

The customer has bought:

FC 24 Coins

202

3

/

09/24




Phoenix: I've bought coins from here three times. They are always efficient and fast. They are also very reliable. At first, I was a bit scared but I realized that they were very safe.

The customer has bought:

FC 24 Coins

202

3

/09/

25




Barnes: Fast delivery the workers on the chats are great at communicating and solving problems, and also have reasonably priced coins and players for fifa would definitely buy from here again.

The customer has bought:

FC 24 Coins

202

3

/09/

25




Steve: Very trustworthy platform, customer support is very understanding of whatever your situation is. I 100% recommend this coin site!

The customer has bought:

FC 24 Coins

202

3

/09/

25




Alex: Excellent service provided and kept me up to date on my order status. So I was very satisfied with FIFACOIN and will be using it again.

The customer has bought:

FC 24 Coins

202

3

/

09/25